Have any Questions?
Visit Bürgenstock To Celebrate Special Occasions With Private Airport Transfers from Zürich
Located partially along the shore of the picturesque Lake Lucerne, the Swiss mountain of Bürgenstock lies 1,115 meters above sea level and offers stunning views of the Lake and its surrounding vistas.The mountain also houses a resort on the ridge at 874 meters. As the mountain is completely encircled by Lake Lucerne, the lookout point at the summit of the Bürgenstock, the Hemmetschwand, offers magnificent and far-reaching views.
The closest city to Bürgenstock is Lucerne, which is one of the most visited cities in Switzerland. Lucerne sits on the major railway lines to Locarno and Lugano near the Italian border, Lake Geneva near the French border and Lake Constance on the German and Austrian borders.
Businessmen, celebrities, tourists, and everyone wealthy come to Zürich for meetings and conferences. They usually end up planning a driving holiday to Lucerne as the city makes for a great one-day exploration stop. But this isn't where the trip should end. Just half an hour from Lucerne is the mighty Bürgenstock and has been loved by the wealthiest among the wealthy since 1873. For people who like nothing short of luxury and dislike the idea of backpacking through the mountains and villages to reach a hotel, travelling in a luxury vehicle becomes a necessity. For those who need luxury in their travel, luxury chauffeur services in Bürgenstock are the best way to travel in and out of the city.
We, at Noble Transfers, offer first class private luxury transport services in Bürgenstock for those who like to travel in style. We provide the best-chauffeured limousine services and VIP transfer services in Bürgenstock from all the major airports and cities across Switzerland.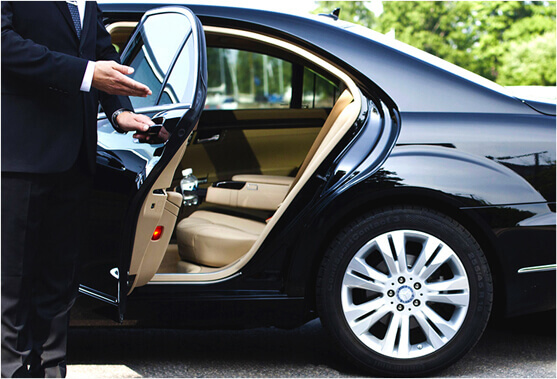 Get private airport transfers from Zürich to Bürgenstock
The Bürgenstock resort is situated on a ridge and the landmark measures 1 km and occupies 60 hectares. The place has a lot of history and has always been ahead of its time. The views from the establishment are breathtakingly spectacular. The Grand Hotel was the first structure to be built on the mountain and hosted numerous international icons and celebrities. The place was exclusive and had guests ranging from Charlie Chaplin to Kofi Annan. Audrey Hepburn married Mel Ferrer in the Bürgenstock chapel in 1954 and Sofia Loren and her husband came in the 1960s and became long-term residents in Villa Daniela at the Bürgenstock resort hotel (as it is now called).
Currently, the resort has four hotels, a Health & Medical Centre, 12 restaurants and bars, 67 residence suites, a 10,000sq m (110,000sq ft.) of Alpine spa and a wide range of leisure activities including tennis courts and a golf course.
The best way to visit the resort is by flying to Zürich and then taking an airport transfer to Bürgenstock. If you are flying private, then you can simply land at Buochs airport, which is just a 15-minute drive from the resort. Wherever you are landing, Noble Transfers' business transfers will be there to take care of you. A special and notable addition to a luxurious getaway is how you reach your destination. Your transportation will set your mood for the next few days and that is why we offer top-notch luxury VIP services and super comfortable rides. To achieve this, we only keep luxurious vehicles in our fleet.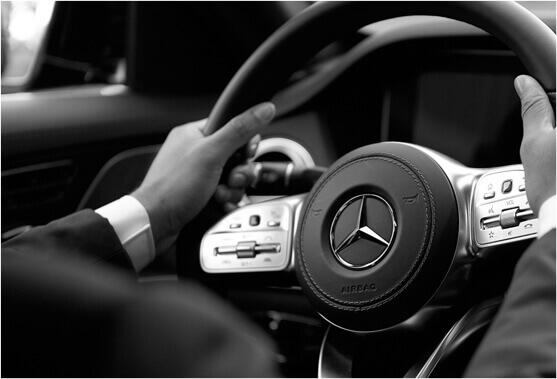 Our fleet of cars includes- Mercedes Maybach, Mercedes S Class, Mercedes E Class, Mercedes Viano, Mercedes V Class and top model limousines. All the cars and limousines in our fleet come with professional chauffeursso that your ride to Bürgenstock can be extra comfortable and stylish.
All we ask of you is to book your transfers from Zürich airport to Bürgenstock with us through our website and notify us of your travel plans. This will help us in instructing our chauffeur accordingly for we don't want you wasting a minute of your valuable time in giving directions. If you have only decided the travel dates and haven't made any further plans, then let us make a plan for you. Whether you need help with planning your stay or mapping out your must-visit list, then take advantage of our concierge services where in we make you a customized itinerary for your stay in Bürgenstock and take you to the best places in the surrounding area. We will book you a hotel, book you a table at a restaurant or even get you a spa appointment. Simply let us know what you need and we will get it done.
On the day of your arrival, our chauffeur will already be waiting for you at the airport. He will wait for you for as long as you need and will help you with your luggage and other requirements before taking you through a scenic ride to Bürgenstock. You can also book transfers from Bürgenstock to Zürich airport with us after your holiday comes to an idyllic end. Or if you enjoy the ride with us too much, we can even drop you home rather than the airport. Geneva, France or Germany, we will take you anywhere you wish to go. We want you to have the most relaxing holiday that you can think of. Let us worry about traffic and parking. All you need to do is sit back, relax and enjoy the ride in our business class transfer in Bürgenstock or in a premium chauffeured limousine.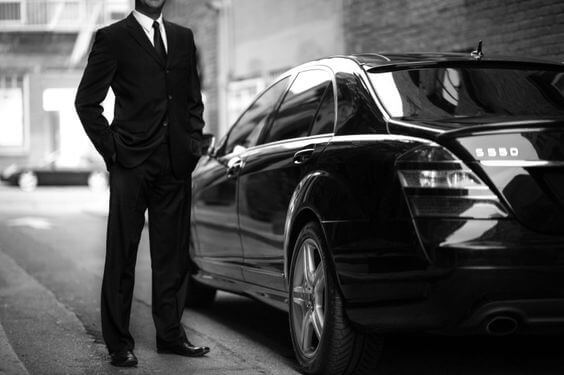 Travel to Bürgenstock with professional chauffeurs
A tranquil lake and a mighty mountainis the perfect recipe for magnificent views and a plethora of activities to choose from all around the year. During winters, the resort's ice-skating rinks and high-standard indoor tennis courts can be used when the winds are too chilly outside. Guests can also go skiing in the nearby Engelberg mountain, which is hardly a 25-minute drive from the resort.
The warmer and sunnier months offer extensive bike paths and hiking trails. Also famous in summers is the rock-face path "Felsenweg". This mountain trail is traditional and is yet believed to be mythical by many. It leads to the gigantic 152.8 meter-tall Hammetschwand Lift, which was completed in 1905 and is the highest outdoor elevator in Europe. Interestingly, the elevator was featured in the 1964 James Bond film, Goldfinger.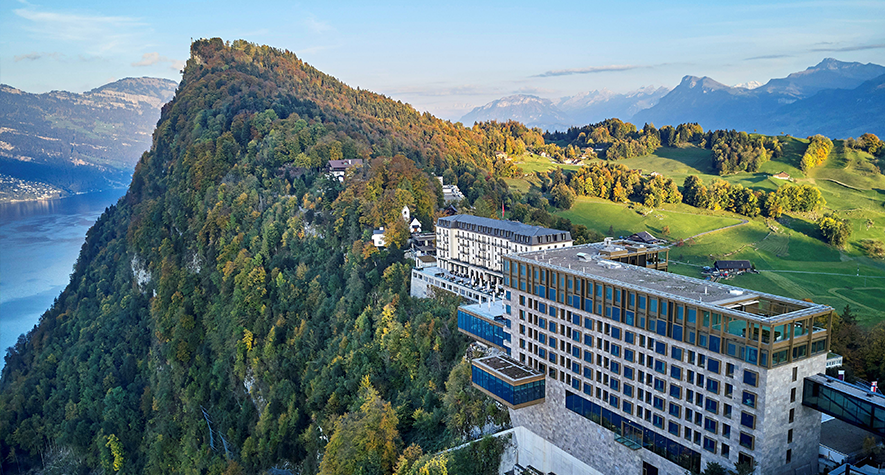 The way to the mountain is beautiful too. Whether you plan to stroll on the promenades along Lake Lucerne or wish to visit the Chapel Bridge before heading to Bürgenstock resort, you need a chauffeur who knows the area well. Luxurious travel doesn't only mean a posh vehicle, how you are being chauffeured around matters equally.
This is why Noble Transfers only hires professional chauffeurs who are licensed, humble and know how to respect privacy. When you book your luxury car rental in Bürgenstock with Noble Transfers, you can be sure that your travel will be smooth, luxurious and extremely peaceful. All our guests love their privacy and hence we make it a point to keep your travel plans as discreet as possible.
All we do and understand is serving our guests in the poshest way possible. Whether you need to go to Bürgenstock, to Zürich city or to Lucerne from another city or country and you need an airport transfer, we are here to serve you 24-hours a day. We have impeccable services and we are always on time. We will never let you reach late to a meeting, an event or to your date. That is our promise. We have the answers for all your transportation needs in Bürgenstock and around with our business class transfers and premium limousine services.
Bürgenstock has the finest international cuisine and chefs from around the world. The Spices Kitchen & Terrace is an open kitchen restaurant and gives an extensive view of the region. The Taverne 1879 serves traditional mountainous cuisine for food connoisseurs who love to explore and taste typical Swiss food such as raclette and rösti. OAK Grill & Pool Patio also serve wonderfully prepared meals with ingredients sourced locally.
Whether you are holidaying with your family, alone or are planning to propose to your beloved at the summit of Bürgenstock, we have got you covered and so does the Bürgenstock resort. Just book our VIP transfer services to Bürgenstock from Zürich airport or any other city and start packing. Or better yet, let us make an itinerary for you. Noble Transfers is here for you all year around. Visit the resort on the Bürgenstock ridge in the Alpine landscape for 360-degree views of the Alps and the sparkling Lake Lucerne and have a great time. Celebrate birthdays, anniversaries or just the love you have for your near and dear ones at this beautiful resort. Book your private airport transfer from Zürich to Bürgenstock and arrive in style.