Pre-book Your Private Transfer: Call
Have any Questions?
The best known global hub for banking and finance, Zurich is the largest city in Switzerland. Home to the headquarters of many national and international companies as well as some of the world's biggest and leading universities, it is a business-oriented town that attracts lots of business and leisure travelers. Known for its delicious chocolates, high-end shopping as well as the beautiful architecture of dozens of cathedrals and museums, and well-preserved old town, if you are visiting Switzerland for the first time whether for skiing, for a holiday or a business trip, you are likely to enjoy this lovable city. Being a global financial center, there is no surprise to learn that the city was rated the world's third most expensive city in 2018. It is the financial capital of Switzerland and one of the best places to visit if you want to catch the glimpses of Swiss city life.
No trip to Zurich is complete without walking around the magical lake of Lake Zurich. The city has everything for almost every traveler whether it is Grossmunster and Fraumunster or high-peak mountains and beautiful waterfalls, resort villages and charming streets of Old Town as well as stunning views of the Swiss Alps, etc. It is a paradise for winter sports. If you have planned to visit the city this year and are wondering about where to stay, don't worry!!! This guide will help you. We are here to help you decide the best places to stay in Zurich - neighborhoods and surrounding areas as per your budget and other requirements.
Let's find out where to stay in Zurich:
Bahnhofstrasse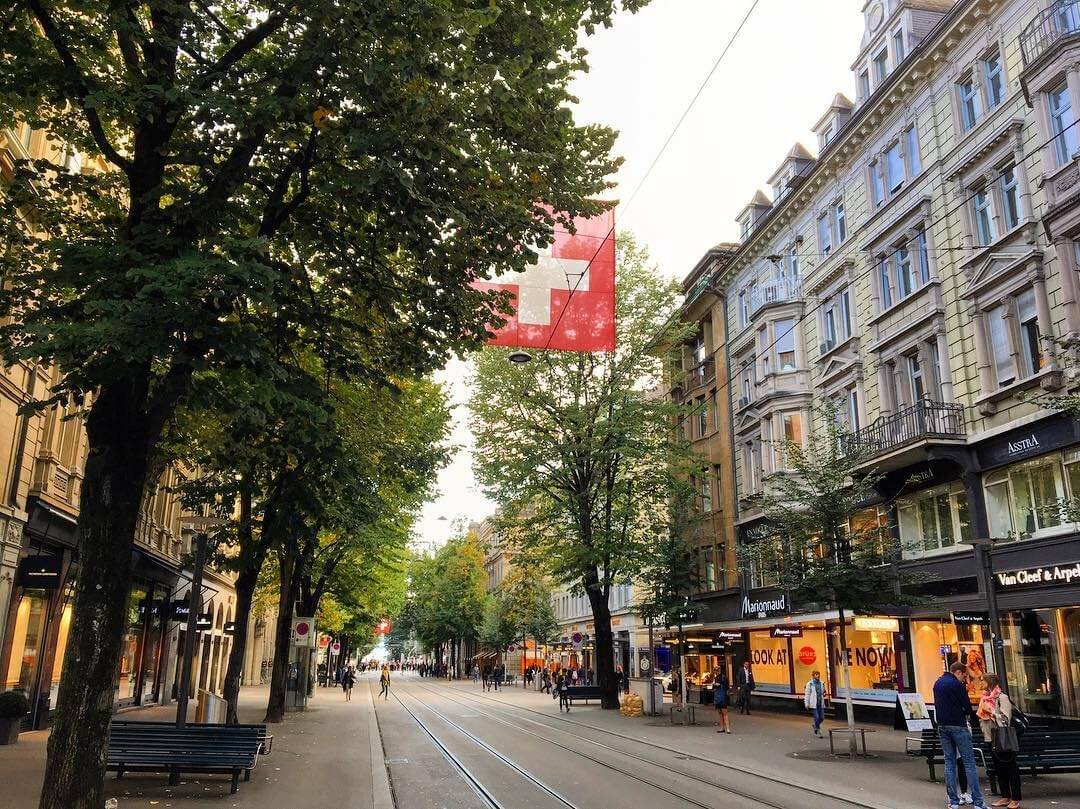 This neighborhood of Zurich makes up one half of Zurich's downtown. Located on the west side of the Limmat river, Bahnhofstrasse is home to several Zurich's most-visited and famous tourist attractions of the city. The heart of the city is one of the most expensive areas to stay in Zurich i.e., an ideal location for luxury and leisure travelers who have quite enough budget for their overall luxury. It is also home to world-known statues and monuments as well as a number of iconic picture-taking places like Geiserbrunnen on Burkliplatz. You can get the chance to taste the little Swiss cuisine like fondue, chocolate, burger or many more.
Things to Explore in Bahnhofstrasse:
Fraumünster Church, Giacometti Murals

Works of artists and writers at the museum Strauhof.

Lindenhof, Täufer Gedenkplatte

Central Hof Monument, Kirche St. Peter, Paradeplatz

Old botanical garden and Limmat waterfront
Best Hotels to stay in Bahnhofstrasse:
Hotel Storchen

Hotel Kindli

Savoy Baur en Ville

Hotel St. Gotthard

Hotel Hirschen
Altstadt (Zurich's Old Town)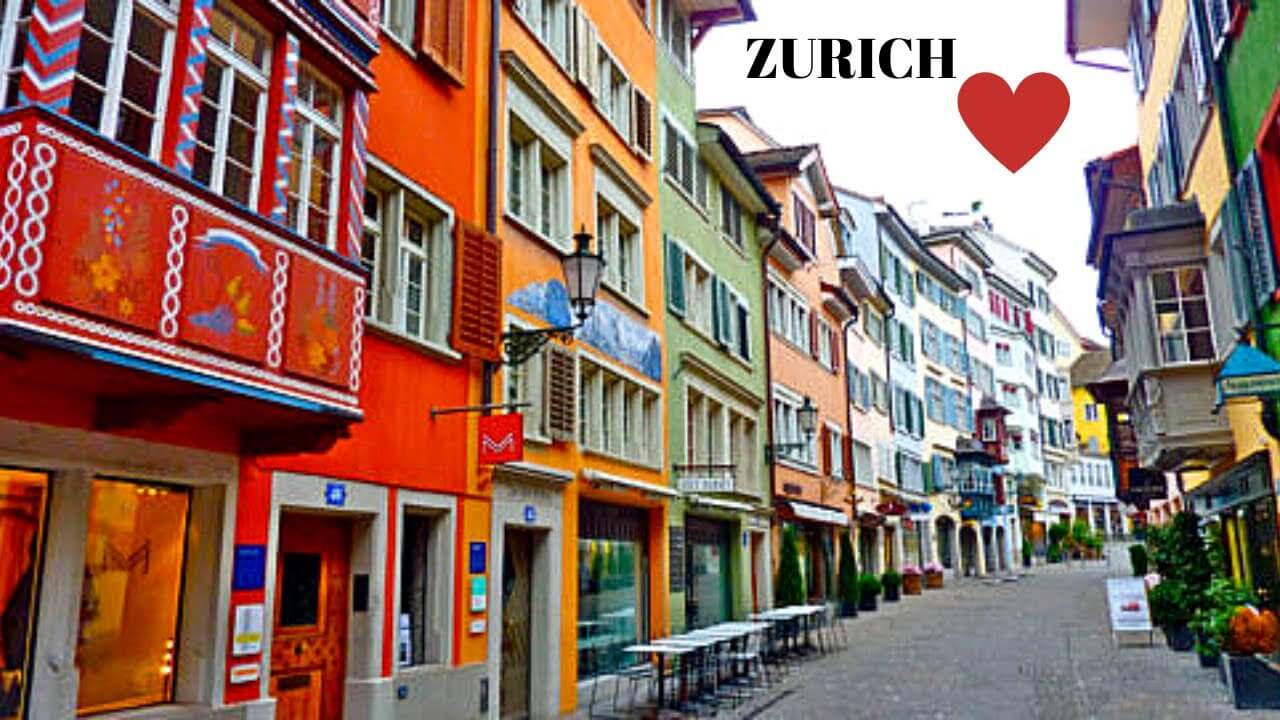 If you are visiting the city for the first time, the best place to stay in Zurich is Old Town, also known as Altstadt. It is one of the best tourist attractions to explore in the city that hosts numbers of Zurich's best attractions such as the Opera House, St. Peterskirche, Grossmunster, Paradeplatz, and the Town Hall, or Rathaus, etc. It is situated across the river from Bahnhofstrasse and has long been a social, cultural and historical hub with its medieval houses, cobbled streets, and stunning ancient architecture. It is a small place which makes it a perfect place to explore on foot. It is also a great place to stay for those who are traveling on a budget.
Things to explore in Altstadt (Old Town):
Musée Visionnaire

Kulturhaus Helferei

Cabaret Voltaire Art Center

Café Schober, Grande Café & Bar

Zentralbibliothek Zürich, the main city library

Romanesque-style Grossmünster Church

Zurich Town Hall (Rathaus)

Zunftstadt History Museum and Helmhaus Art Museum

Predigerkirche Church
Best Hotels to stay in Old Town:
Townhouse Boutique Hotel

Hotel Helmhaus

Sorell Hotel Rutli

Hotel du Theatre by Fassbind

City Backpacker Hotel Biber
Zurich Town Hall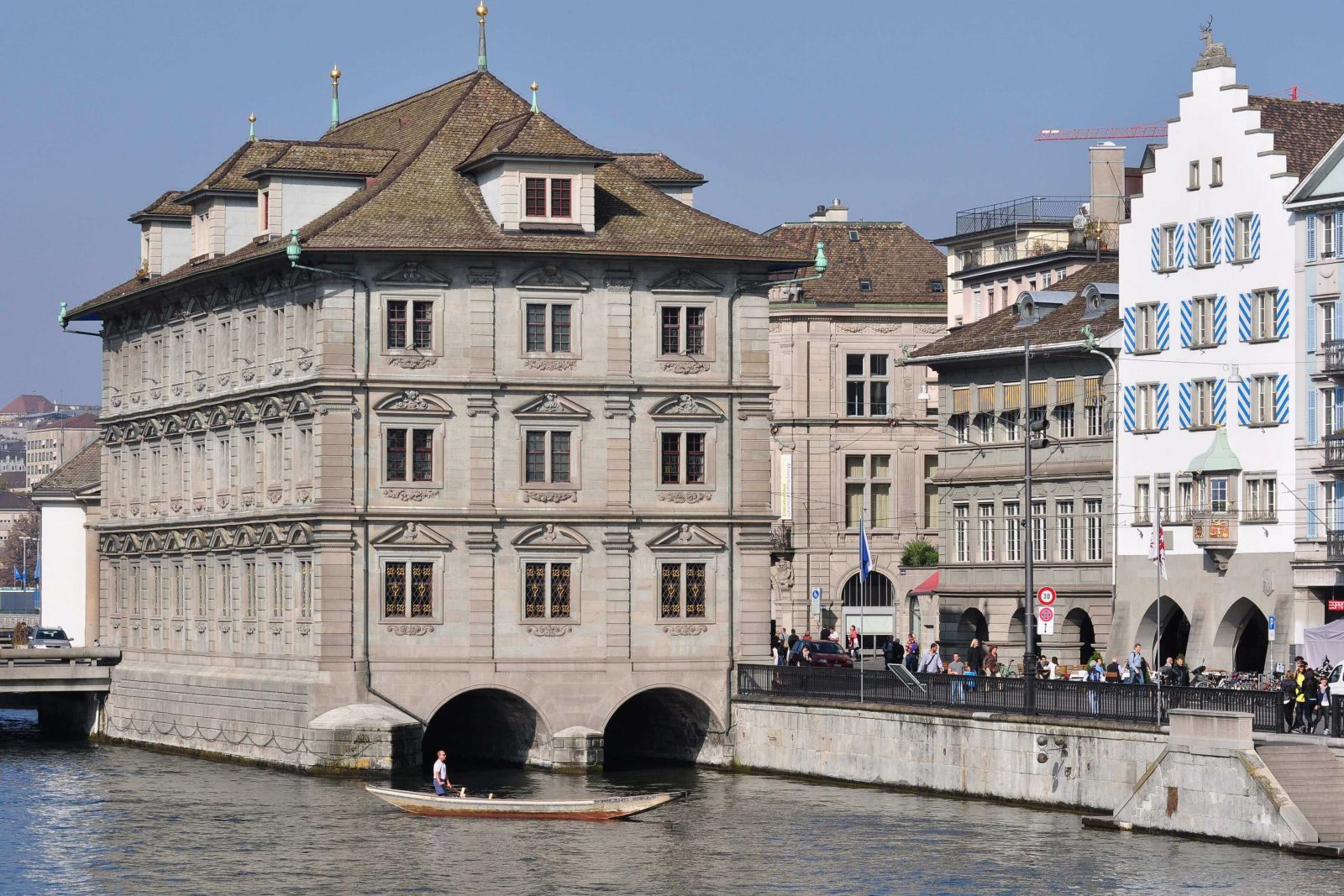 This neighborhood town of the Zurich city situated across the Limmat river from Bahnhofstrasse. It is a small and central neighborhood that makes it a perfect place to stay for sight lovers and whistle-stop travelers who are fond of securing their memories by clicking up photos on memorable sights. The most popular landmark of the town hall is the town hall itself locally known as Rathaus situated on the banks of the Limmat river at the heart of Zurich. Other must-visiting places in the town hall are Grossmunster church and Predigerkirche church.
Apart from these best places, there are numerous quaint cafes and coffee bars to explore in the town hall.
Things to explore in Zurich Town Hall
Kulturhaus Helferei

Zunftstadt History Museum, Helmhaus Art Museum

Haus zum Brunnhof, Musée Visionnaire

Wasserkirche Church, Cabaret Voltaire Art Center

Theater am Hechtplatz, Kunstwarenhaus Art Gallery,

Zentralbibliothek Zürich – Central Library,

Grande Café & Bar, Café Schober – Historie Cafe
Best Hotels to stay in Zurich Town Hall:
CitizenM Zurich

Hotel St. Gotthard

Sorell Hotel Rutli

Hotel Bistrol Zurich

Glockenhof Zurich
District 2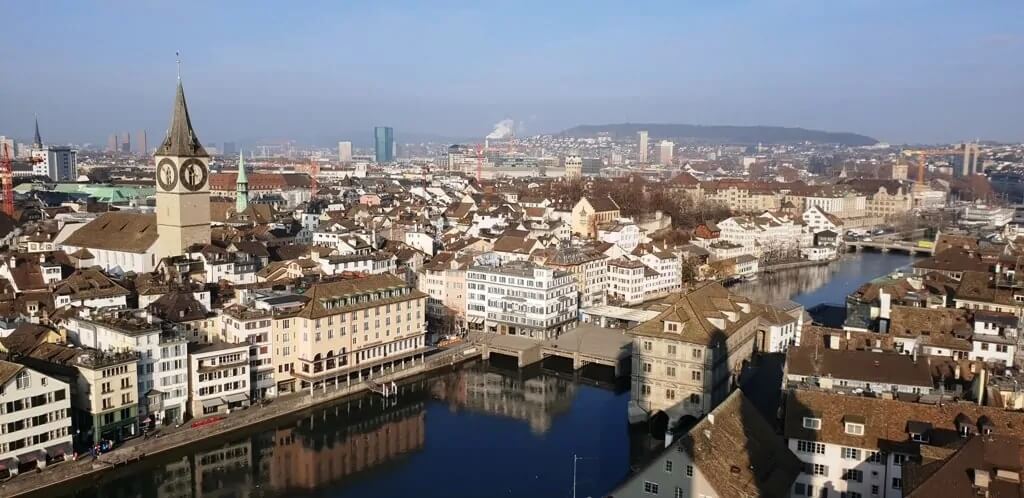 Located south of Zurich's city center, District 2 is a huge and luxury neighborhood that lies along the western shores of Lake Zurich. It is an ideal location for all those travelers who want to explore the bustling city center but also want some peace time to relax for a while. This is the place where you can find a great range of outdoor activities and enjoy them with your families. It is full of different kinds of activities and tourist attractions that will make your trip memorable. If you are a sports enthusiast, this is a great paradise for you as you can find the acclaimed FIFA world football museum.
Things to explore in District 2:
Belvoirpark Swiss Restaurant, Thermalbad & Spa Zurich

Museum Reitberg, Rieter Park, Klopstockwiese Park

Sukkulenten-Sammlung Zürich – Botanical Gardens of Zurich

Strandbad Mythenquai, Zurich's only sand beach,

Rentenanstalt Arboretum

Lake Zurich Promenade
Best Hotels to stay in District 2
City Backpacker Hotel Biber

Zurich Youth Hostel

Hotel Otter

Hotel Da Vinci

City Stay Furnished Apartments – Lindenstrasse
Enge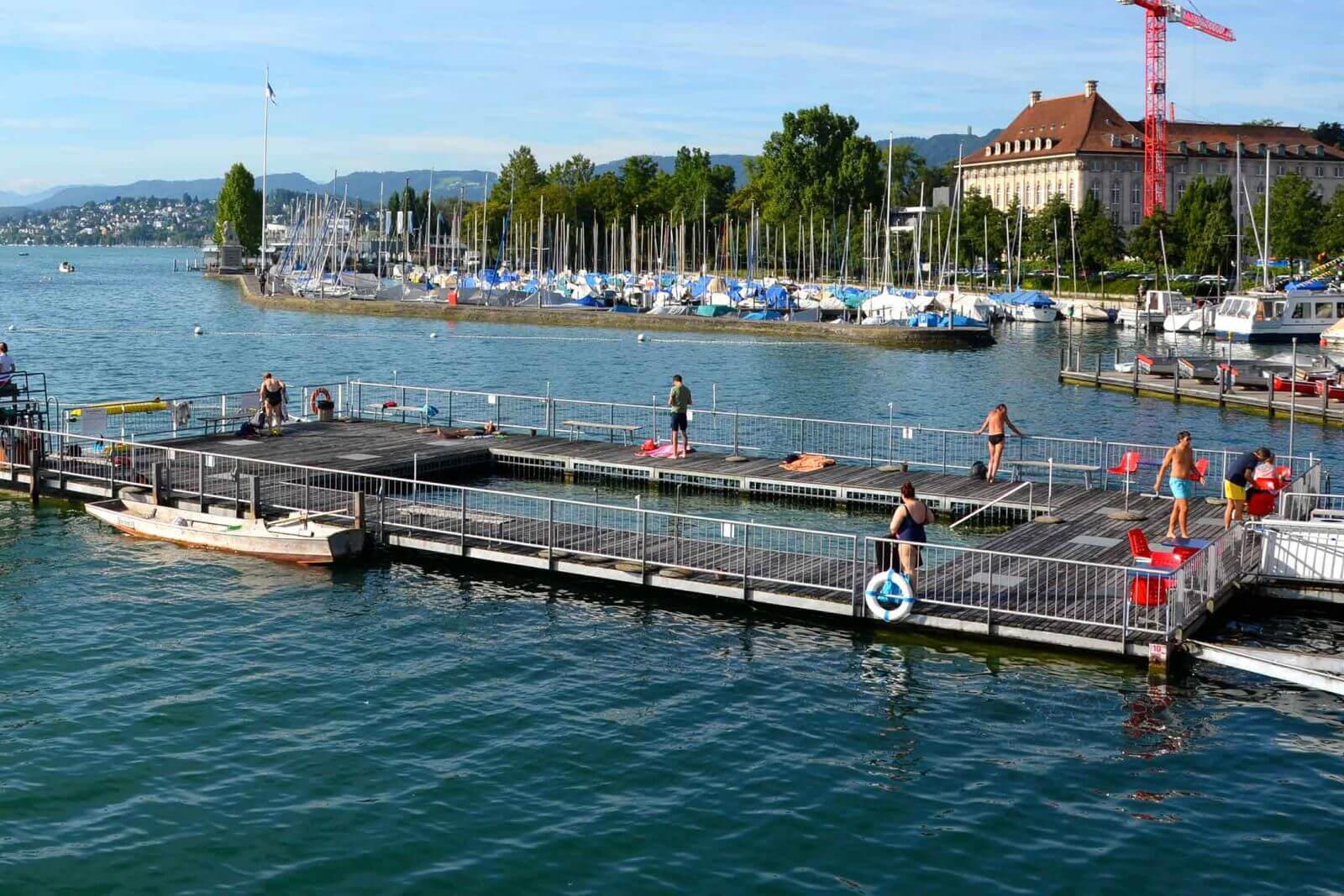 Located south of the Old Town along the shores of Lake Zurich, Zurich's Enge is the perfect location if you are traveling with your family. It is best known for its great abundance of green space which makes it a perfect place to stay in the city especially for those who are outdoor enthusiasts and want to explore its green space. In addition to its beautiful swimming beaches, you can also explore the botanical garden and arboretum as well as its waterfront bar and sauna and Strandbad Mythenquai resort. It is home to the FIFA world museum and Rietberg Museum. You can sit and relax in Rieterpark and Belvoirpark as well as the famous promenade running along the shoreline.
Things to Explore in Enge:
Bar Enge, Kirche Enge

FIFA World Football museum

ARTEF Galerie fur Kunstfotografie

Maurice de Mauriac

Laden - Ramseyer's Whisky connection
Best Hotels to Stay in Enge:
City Backpacker Hotel Biber

Zurich Youth Hostel

Swiss Star Zurich Sihlfeld

Swiss Star Aussersihl

Hotel Ascot
District 4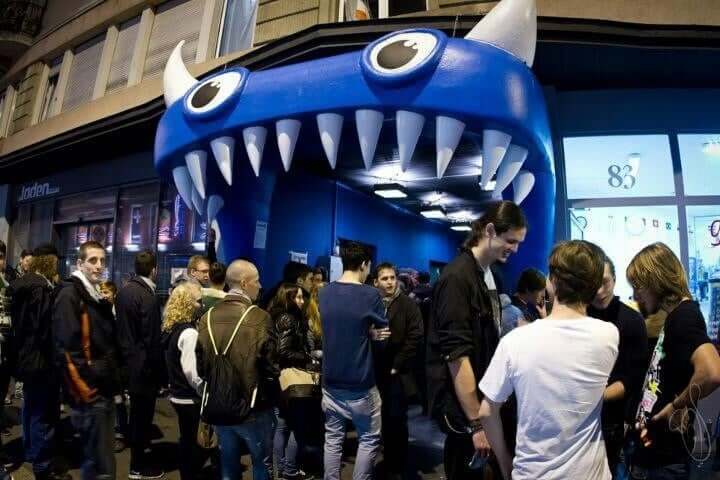 Located northwest of the city center, District 4 was home to Zurich's main red-light district a few years ago and a perfect place for those travelers who are planning to stay for a longer period in this more authentic area of the city. You can find many popular landmarks and tourist attractions in this place. If you are a night-lover, you are going to love this place. There are several Zurich's best nightclubs situated within the limits of District 4 including Plaza Club and Bar on Badenerstrasse 109 - a very popular hangout place as well as Stall 6 Bar and Foyer. For the Indian music lovers, Gonzo is a good option. There are some also beautiful parks to discover in District 4 such as Kasernenareal and another one is Backeranlage.
Things to Explore in District 4:
Jeansmuseum and Alte Kaserne - Event venue

Vagabundo Bar, Plaza Club, Club Zukunft

Stall 6, Gonzo nightclub

Caduff's Wine Loft

Kantonspolizei Zürich Kriminalmuseum – Police Museum
Best Hotels to Stay in District 4:
25Hours Hotel Langstrasse

Olympia Hotel Zurich

Swiss Star Center

Swiss Star Guesthouse District 4

Boutique Hotel Helvetia
Langstrasse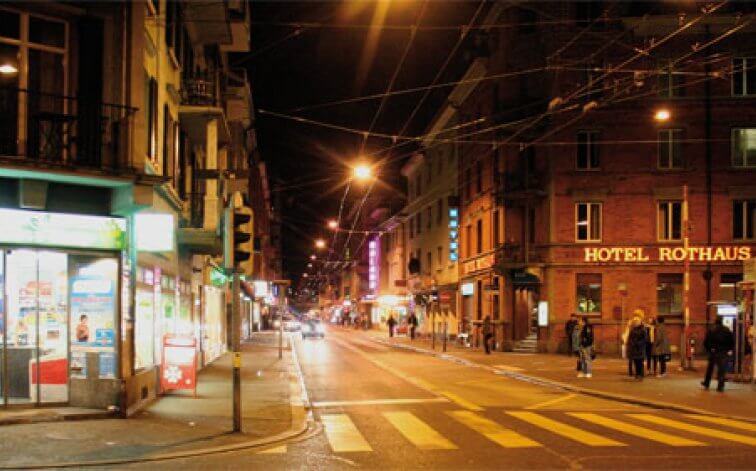 Situated next to the Zurich main station, this is a small district north of old town and a great paradise for nightlife lovers. There are many exotic hotels, nightclubs, and casinos waiting for you to explore in Langstrasse - once the red light district of Zurich. You can find a large range of restaurants and parks here which makes it the perfect location to stay and explore. Due to its interesting lifestyle, it is not only the perfect place for families but also a popular spot for travelers looking for some fun in idle time.
Things to Explore in Langstrasse:
Traditional hotels like Le Chef, 25 Hours Hotel.

NENI, Ole Ole bar

Old Gregory Pub, Strauss

Criz, Sanapurna Naturheilkunde Ayurveda Yoga

Mars bar, Total Bar
Best Hotels to Stay in Langstrasse:
City Backpacker Hotel Biber

Swiss Star Longstreet

Casa Heinrich Guesthouse

X-TRA Hotel

INSIDE FIVE – City Apartments

Greulich Design & Lifestyle Hotel
District 8
Also known as Riesbach, it is a quiet and peaceful place to stay in Zurich and an ideal location for travelers who are planning to stay for a week or more in Zurich like business co-operates or leisure travelers. Situated on the northeastern edge of Lake Zurich, there are many outdoor activities and things to do in District 8. It is very well-connected to the central business district along with an extensive tram and bus network which offer easy access to the main train station, airport and Old Town Zurich. You can explore parks and grocery stores as well such as the University Botanical garden, China garden, and outdoor swimming pool, etc.
Things To Explore in District 8:
Le Corbusier House, Lake Zurich

Atelier Hermann Haller Art Museum, Johann Jacobs Museum

Zürichhorn Park, Blatterwiese Park

Strandbad Tiefenbrunnen, Nordamerika Native Museum

Tram-Museum Zürich, Ortsmuseum Zollikon
Best Hotels to Stay in District 8:
Opera Hotel Zurich

Small Luxury Hotel Ambassador Zürich

La Réserve Eden au Lac Zurich

Seegarten Swiss Quality Hotel

Sorell Hotel Seefeld
Zurich West

One of the newest and popular neighborhoods in town, Zurich West is a former industrial area which used to be known by the abandoned warehouses and dilapidated factories. Situated on the other side of the train station from Langstrasse, Zurich West is full of nightlife options for travelers and explorers. Due to its recent revival, it is now the most trendy and cool spot in a town full of restaurants, boutiques, bars and beyond which make it a perfect place to stay. This exciting neighborhood has everything for almost every traveler whether you are a culture-interested individual or art lover.
Things to Explore in Zurich West:
Im Viadukt, Prime Tower

delicious tapas and seafood at Les Halles

outdoor urban garden at Frau Gerold's Garten.

dine at Clouds

boutiques, bars, and restaurants of Schiffbau

French cuisine at LaSalle
Best Hotels to Stay in Zurich West
City Backpacker Hotel Biber

ibis budget Zurich City West

iQ130 Hotel

ibis Zurich City West

Novotel Zurich City West
Zurich Airport

Being one of the busiest cities in the world, there is no doubt that Zurich airport is well-maintained and equipped for thousands of tourists to come and go every month. As it is the financial capital of Switzerland, the majority of visitors to Zurich are business and leisure travelers and when it comes to finding the most comfortable and convenient place to stay in Zurich is its proximity to the airport. If you are also one of them, there is no need to worry. There are several fine hotels close to the Zurich airport with top-notch standards. The airport is well-connected to the city along with the bus and tram networks.
Things to Explore Near Zurich Airport:
Zurich city center

Lake Zurich

Observation Decks

Axtra, Boda Borg Zurich

Dragon View Tandem Paragliding Zurich
Best Hotels to Stay Near Zurich Airport:
Mövenpick Hotel Zurich Airport

Dorint Airport-Hotel Zurich

Radisson Blu Hotel

Leonardo Hotel Zurich Airport

Swiss Star Zurich Airport
Final Words
Zurich is a bustling city and more than a banking, financial and industrial hub of the country. This Swiss city is rich in culture and history as well as hosts one of the best nightlife and picture-perfect scenes for all the travelers. From east to west, north to south, this exciting city is full of amazing things to do and explore. In short, Zurich is the best city you cannot miss during your stay in Switzerland.
Street address
City
State
Zip code
Country
Street address
City
State
Zip code
Country
Street address
City
State
Zip code
Country