Have any Questions?
Visit The Alpine Town Of Gstaad With Airport Transfers From Geneva, Basel or Zurich Airport
Located in the German-speaking region of the Canton of Bern in south western Switzerland, the town of Gstaad is a major ski resort and is quite famous among high society and international celebrities.
The resort town is often called a twin of the glamorous Cannes. However, the town is smaller in size and is lined with timber houses and cow-grazed pastures. The alpine resort town has a slogan- «come up, slow down», and Gstaad stays true to these words. The place offers a perfect getaway from their increasingly hectic lives.When you come here, you get to take a step back and enjoy their days. Gstaad is a great wellness destination and guarantees outstanding wellbeing experiences due to its untainted nature and environment, unparalleled leisure activities, wholesome mountain agriculture, and last but not the least- top international events.
The closest airport to this luxurious town is in Bern, which is one and a half hour away. Zürich is two and a half hours away and from the Geneva airport, it takes approximately two hours to get to Gstaad. For those flying with their charter planes, it is best to land at Saanen airport, which is just 5 kilometres away and it takes less than fifteen minutes to get to the town. But no one travelling to Gstaad wants to wait in line for a taxi rental. Besides, why stand in a queue at the airport when you can get private airport transfers to Gstaad from all major airports like Geneva, Basel or Zurich airport in Switzerland.
Looking for airport transfers to the extra vagant alpine resort of Gstaad? We, at Noble Transfers, are a luxury transportation service catering to guests and travellers for whom luxury is a prerequisite. We provide VIP transfer services and limousines services in Gstaad from Zürich, Bern, Geneva, and Saanen.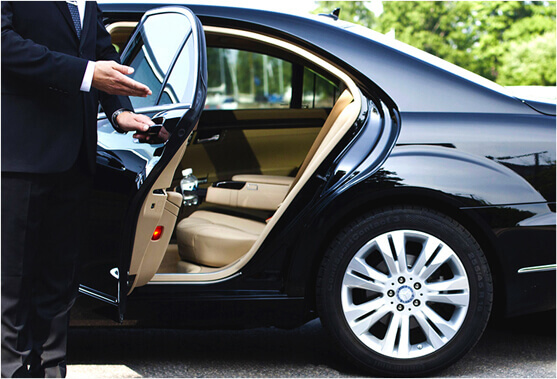 Get airport transfers and premium limousine service in Gstaad
Gstaad's harmoniclandscape constitutes five valleys. The location between 1,000 and 3,000 meters above sea-level offers a healthy and positive impact on one's wellbeing. An idyllic and extra charm is added to this town thanks to its neighbouring resorts of Saanen, Schönried, Saanenmöser, Zweisimmen, Gsteig, Lauenen, Feutersoey, Turbach and Abländschen. The Saanenland (as it is usually called) as a whole is a haven for luxury and peace seekers. The serene Lake Lauenen with its waterfalls and high moors, the constricted streets in the historic village centre of Saanen, the strategic location and setting of Schönried and Saanenmöser for winter sports fans, and the calm mountain village of Abländschen make this alpine region an ideal and diverse place for a wholesome holiday.
The town of Gstaad offers outstanding hiking trails, mountain biking routes and skiing on slopes that are as smooth as silk. Along with celebrity gazing, the town is also popular for its shortest "shopping mile" in Switzerland.
Travelling to remote resort towns can be tricky, exciting and overwhelmingall at the same time. But that is all one should have. The excitement. You don't need to worry about anything when you book your business class transfers with us. You should only think about what clothes to pack and how many to pack when planning for a vacation. Leave the rest to us. We offer professional airport transfer services from all major airports including Bern, Zürich, Geneva, and Saanen to your desired destination in our luxurious cars.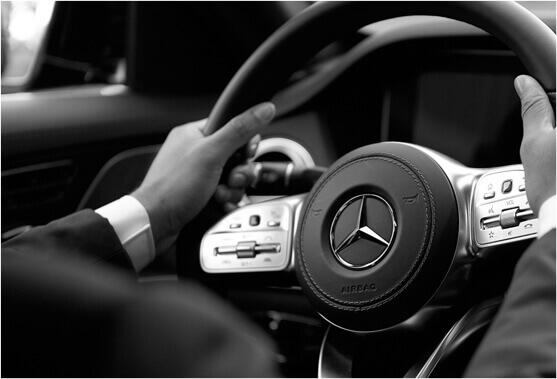 Our fleet of cars includes- Mercedes Maybach, Mercedes S Class, Mercedes E Class, Mercedes Viano, Mercedes V Class, and top model limousines. We make sure that you reach your destination on time and in a luxurious fashion. Our services are custom-made to suit our guests for whom luxury is a part of living. We offer luxury VIP services for all airport transfers. Our guests don't need to settle when there is an unmatchable luxury at their disposal provided by Noble Transfers.
All our cars and limousines are driven by professional chauffeurs. In addition to our impeccable driver services, we also provide concierge services to take care of all your needs and requirements. If you haven't planned an itinerary yet, we would gladly make one for you. Whether you need us to book you a hotel, book you a table at a restaurant or even find a specific bottle of wine before your romantic picnic date in the Swiss Alps. We do it all in style and in a timely manner.
All we ask of you is to book your airport transfer from basel airport to Gstaad in advance through our website so that we can make the required arrangements before your arrival. Your car and professional chauffeur will be waiting for you at the Geneva, Basel, Milan Malpensa or Zurich airport prior to your flight's landing. He will wait for you for as long as you need and will take care of your luggage and other necessities. Once you are settled in the car, Our Gstaad's professional chauffeur will straight away take you to your decided destination without asking for directions. Need to attend an urgent business meeting in Gstaad or nearby areas before heading for your holiday? No problem. We are extremely flexible and can accommodate all your needs and requirements effortlessly. We want you to have an amazing vacation without having to worry about work and car parking. The town of Gstaad is car-free and hence, you can also book transfers to Gstaad fron Zürich, Geneva or Bern airport after you have had a great time in the magnificent resort and are ready to go home.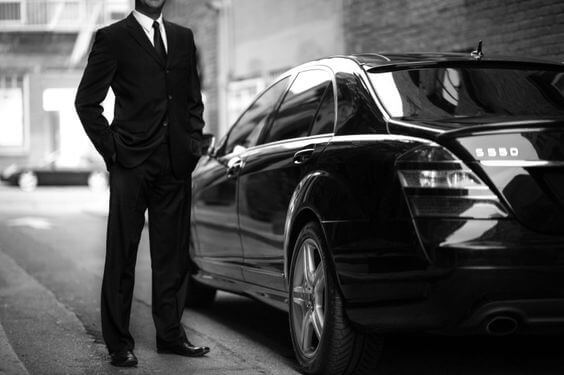 Book premium limousine services with professional chauffeurs in Gstaad
Rushing mountain streams, sparkling mountain lakes, wildly stunning forests and gently progressing green hills. All this with an extraordinary Alpine backdrop lends this resort town its charm and magnificence.
Whether you are flying private or in an Airbus, to get to Gstaad, you need a ride. We offer luxurious rides and skilled chauffeurs. One cannot enjoy a vacation when they have to worry about driving and parking all the time. And you really don't need to drive a car here. You can spend this extra time in exploring 185kilometres of winter walking trailsby hiring a professional chauffeur to drive you to Gstaad and back. Take in the fresh mountain air, eat from among more than 100 restaurants and focus on your well being and rejuvenation. Vacations are meant for relaxing and enjoying and getting in touch with your inner-happy-self. This is why we offer premium chauffeured limousine services in Gstaad for our guests who need a break from the hustle bustle of the fast-moving world. All you have to focus on is where to eat, where to hike to, and which night club to go to. Leave the rest up to our professional chauffeurs.
We understand that the place gets a lot of royalty and celebrities and not everyone likes the world to know of their vacation plans. For those who like to keep their where abouts off the social radar, we do our best to keep the visit as discreet as possible. Hire a private airport driver for your VIP travel to Gstaad and be sure that our chauffeur will keep you safe and will respect your privacy.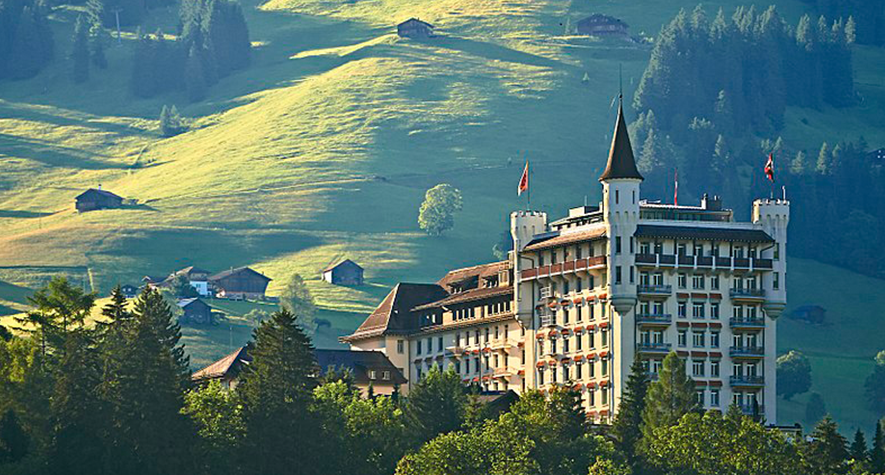 Our business transfer services are exceptional and all our chauffeurs are licensed, humble, extremely professional, and know all the cities and surrounding areas well. All our chauffeurs know the hidden gems of this magnificent resort town in the Bernese Oberland region of the Swiss Alps. Hundreds of kilometres of all-level pistes and cross-country trails in nearby ski areas of Wispile and Rinderberg are well connected to the town with cable cars. Ski enthusiasts are mesmerized with the Glacier 3000 for it offers almost year-round skiing.Information about the best hotels, great eating joints, sleek night clubs and bars for après ski activities, and more come with our driver services. Just book a premium limousine transferin Gstaadand get your favourite suitcase out.
Hilltop Gstaad Palace, a castle-like hotel built in 1913, overlooks the village of Gstaad. Wooden chalets, luxury hotels, designer boutiques, gourmet restaurants and rustic fondue huts are all accessible through the town's central promenade. Summer attractions in the town include golf courses, mountain biking, paragliding, and alpine hiking routes such as the Alpness Trail. Book your private airport shuttle service to Gstaad with Noble Transfers and explore the town in all its glory.
River Saane is a great spot for mountain torrent and canoe adventures. A toboggan run in the summer in Schönried, a via ferrata offer a fun-filled time for families. Take a swim in Lake Lauenen, which is situated a nature reserve with breath-taking surroundings. Being the host city for the Swiss Open and having a wealth of beauty and landscapes, Gstaad receives celebrities, players, royalties and everyone who has a taste for sports and luxury.For your next trip to this magical and plush town, book your private airport transfers from Zürich, Geneva, Bern or Saanen with Noble Transfer's premium VIP services and arrive in style. Always.