Have any Questions?

+41 78 60 99 777
Spend Your Holiday In Interlaken With First Class Private Luxury Transport
Interlaken lies in the Bernese Oberland on an alluvial plain. Once the town made the Victorians melt with its beautiful views and hotels, today the place has become a favourite spot for adventure lovers. The town is loaded with adrenalin-loaded activities and has glacier-fed Lakes Thun and Brienz surrounding it. Interlaken is capped by the pearly white peaks of Eiger, Mönch and Jungfrau and is the gateway to Switzerland's fabled Jungfrau region. The town holds international importance for being a great holiday destination and for being an amazing spot for hosting quiet conventions.
With over 45 mountain railways, cable cars, chair lifts, funiculars, and ski lifts leading to 200 kilometres of pistes (peaks) and to a dense network of hiking trails, Interlaken is a starting point for countless excursions.
The town doesn't have its own airport and the closest airport to Interlaken is in Bern, which is 45 minutes away. Planning to visit the town for a convention or on a holiday? Hire the best airport transfer service in Interlaken. We, at Noble Transfer, offer best in class luxury car hire in Interlaken for people who want to enjoy luxury every step of the way in their lives.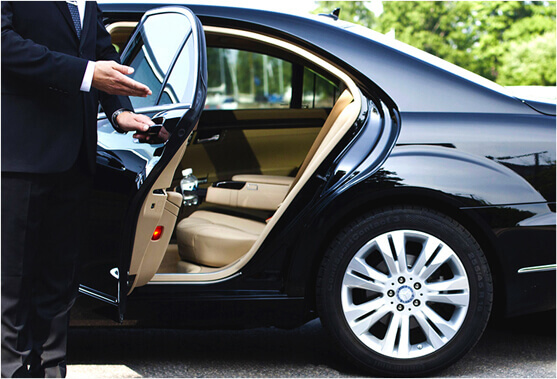 Get VIP airport transfers in Interlaken and arrive in style
Ride the highest railway in Europe up to Jungfraujoch to see the pistes and the Aletsch Glacier in all their glory. But if you aren't feeling like heading up, there a ton of things to in the resort as well. From steamboat trips to the waterfalls, hiking, kayaking, swimming, canoeing and even paragliding, there is something for everyone. And all this, guests get to experience against a stunning backdrop.
Family vacations or vacations with your date, get chauffeured limousine service and private shuttle services from Bern airport to Interlaken. Luxury is a pre-requisite for many and we understand this emotion well. We provide five-star business class transfers services in Interlaken and all around Switzerland with professional chauffeurs driving all our cars and limousines. Reach the capital city of Switzerland, we will pick you up from the airport, get you to your meetings, take you for a stroll along the Aare river and then we will head to Interlaken for your quiet yet adventurous holiday.
All our fleet of cars come with professional chauffeurs. We also offer concierge services to cater to all the needs and requirements of our guests including hotel bookings, making an itinerary, reserving tables at restaurants among others. All you need to do is book your airport transfers through our website and give us your travel itinerary in advance. We will make the required arrangements accordingly. Your car and chauffeur will be at the airport prior to your arrival, will help you with your luggage and other needs and you can be on your way in no time. We pride ourselves on our timely services. We are always on time and with us, you can never be late for a meeting or a date ever.
Our airport transfers will pick you up from the Regional Aerodrome Bern-Belp to the city of Bern, to your hotel, to surrounding areas, another city or country and back. We also offer chauffeured limousine services in Interlaken to take you around the city in style and with utmost comfort.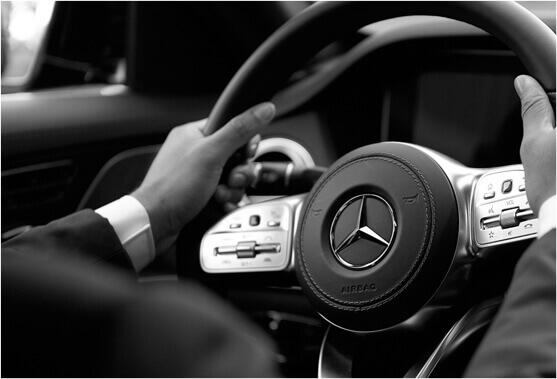 Mieten Sie den besten Chauffeurdienst in Interlaken
Wenn Sie Ihren Luxus-Mietwagen in Interlaken bei Noble Transfers buchen, können Sie erwarten, dass Ihre Reise reibungslos, luxuriös und friedlich verläuft. Wir verstehen, wie viel Datenschutz für Sie bedeutet, und daher halten wir Ihre Reisepläne so diskret wie möglich. Wir haben nur professionelle Chauffeure angeheuert, die unsere Gäste herumfahren und die die Schweiz wie ihre Westentasche kennen. Sie zeigen Ihnen alle verborgenen Schätze Berns, Interlakens und der Umgebung. Von versteckten Höhlen bis hin zu abgelegenen Bars haben unsere Chauffeure die Insider-Informationen an den richtigen Stellen.
Wir sind stolz auf unsere makellosen und wettbewerbsfähigen Dienstleistungen. Egal, ob Sie von einer anderen Stadt oder einem anderen Land nach Interlaken, nach Bern oder vom Flughafen in ein im Tal verstecktes Dorf müssen und einen Flughafentransfer benötigen, wir sind rund um die Uhr für Sie da. Mit unseren Business-Class-Transfers und Premium-Limousinendiensten sind wir die beste Lösung aus einer Hand für alle Ihre Transportbedürfnisse in Interlaken und Umgebung.
Unsere Flotte von Luxusautos umfasst auch Mercedes Maybach, Mercedes S-Klasse, Mercedes E-Klasse, Mercedes Viano, Mercedes V-Klasse und Top-Modell-Limousinen. Wir möchten, dass Sie auf luxuriöse Weise und pünktlich an Ihrem Ziel ankommen. Unsere Dienstleistungen sind auf unsere Gäste zugeschnitten, die mit ihrem Lebensstil selbst Maßstäbe in Sachen Luxus setzen. Wir bieten luxuriöse VIP-Services in Interlaken. Warum in einer Schlange stehen und auf ein Taxi oder eine mittelmäßige Miete warten, wenn Sie in Interlaken einen Limousinenservice mit Chauffeur vom und zum Flughafen Bern bekommen können. Begnügen Sie sich nicht, wenn Ihnen ein tadelloser Luxus zur Verfügung steht.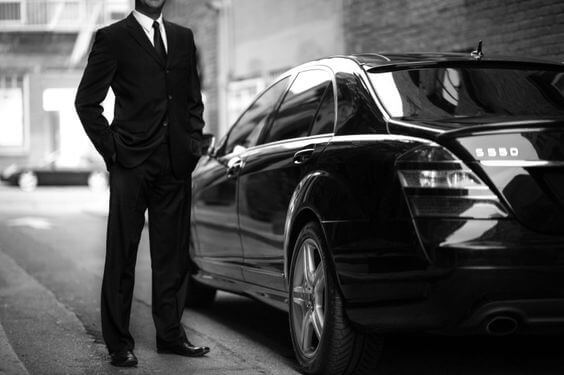 Besuchen Sie Interlaken mit erstklassigen Geschäftstransfers
Das Wilderswil am südlichen Stadtrand ist die Nordstation einer 115 Jahre alten Zahnradbahn, die sich in die Berner Alpen schlängelt. Trotz ihres Alters ist die Schynige Platte-Bahn eine der höchsten Strecken der Schweiz und bietet den Gästen einen atemberaubenden Blick auf die Gipfel und Almen. Das Endziel der Reise ist die Schynige Platte, ein 2.000 Meter hoher Bergrücken am Schwarzhorn, der für einen spektakulären Ort sorgt. Nehmen Sie unseren privaten Flughafentransfer bis nach Interlaken, steigen Sie in diesen historischen Zug und machen Sie Erinnerungen.
Neben der Zugfahrt gibt es noch viele andere Gründe, den Grat zu besuchen. Auf die wunderschöne Stadt Interlaken herabzusehen, die von oben winzig aussieht, und Berge wie das Schreckhorn zu sehen, das mit über 4.000 Metern der nördlichste europäische Gipfel ist. Unser Concierge-Service soll Sie nur über solche Orte und Touren führen. Es gibt auch einen Alpengarten mit 650 Blütenpflanzen und ein Panoramarestaurant. Der Grat ist auch Ausgangspunkt für kurze und lange Wanderungen, um mehr von Eiger, Jungfrau und Mönch zu sehen.
Buchen Sie Ihre Reisen mit unseren Limousinen mit Chauffeur und VIP-Transferservices in Interlaken und lassen Sie sich von uns einen schönen Urlaub planen. Reisen ist das beste Geschenk, das man seiner Familie oder sich selbst machen kann. Eine luxuriöse Autovermietung, eine Fahrt mit dem Chauffeur und Ihre Lieben - das perfekte Rezept für eine gute Zeit.
Besuchen Sie den Höeweg in Interlaken. Die Straße und Promenade ist das Rückgrat von Interlaken und verläuft diagonal und parallel zur Aare, da sie vom Brienzersee zum Thunersee fließt. Die linke Seite des Höhewegs wurde für Besucher frei von Bauarbeiten gehalten, um herumzulaufen und die Schönheit der Natur zu genießen. Ebenfalls zu bewundern ist die Reihe von Blumengärten und Parks wie Höhematte, die einen klaren Blick auf die Berner Alpen bietet.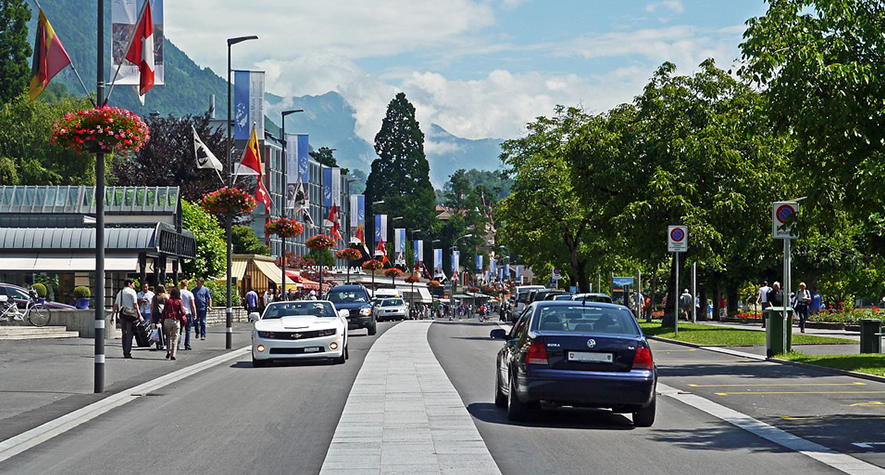 Take an airport transfer from Bern or any other major airport to Interlaken and head straight to the string of high-class hotels sprinkled with boutiques, bars and cafes. The casino is a must visit too.
If the touristic hustle bustle and adventure sports do not capture your interest, then you can always find peace and solitude on the east shore of Lake Thun, just outside the medieval town of Unterseen. The Weissenau Nature Reserve is a wetland site that is immensely blessed with lavish views of Eiger, Mönch and Jungfrau. It is a path less travelled by and during the warm weather, one can take the trail through the wooden walkway and admire the lake, the birds and the wildflowers without bumping into anyone.
In addition to the natural beauty, the reserve also holds the ruins of the Weissanau Castle, a Swiss national heritage site that dates back to the 1200s. Hire our driver services or our concierge services and let us make a plan for you to visit this reserve.
Interlaken has natural beauty in abundance and the lakes and mountains just keep calling to you. The summers here are warm and can be enjoyed to the fullest during the months from June to September. Book your private business transfer or get a premium chauffeured limousine to bring you to Interlaken and go kayaking or canoeing when the water feels right. Go hiking or hop on the train. You will always have something to amuse you. We will get you back to Bern or anywhere you need to be in due time. It is what we do. Hire Noble Transfers for your next trip and just sit back and enjoy the luxurious ride.