Have any Questions?
Noble Transfer offers Madrid Airport Taxi Transfers to visit "The Center of All The Roads in Spain" Madrid
Are you planning to celebrate your New-Year in Madrid, Spain this year? If yes, then you are going to have a blast on your new-year eve. Yes, the capital and most populous city of Spain, Madrid is well-known for being the place where people like to celebrate December 31st. Lies on the River Manzanares in the center of the country, the city is mainly known for Madrid's Puerta del Sol - the city's most famous spot and busiest place in the city where all Spain's six major roads start. With 3.3 million inhabitants, Madrid is the second-largest city in the European Union that combines the most-modern infrastructure and has the status as an economic, financial, and service center of the country. Known as the financial and cultural hub for Spain, it is one of Europe's most amazing cities to visit at least once. There is a huge amount to see and explore in the city. From thrilling nightlife in bars, restaurants, and clubs to plenty of historical sites to explore, it is home to Bernabéu stadium - the Spanish football stadium in Spain. For art-lovers, the city offers Prado Museum to explore the works from the 12th to 19th Centuries including Goya, Velasquez, and Rubens as well as Reina Sofia museum that houses Picasso's most popular painting Guernica, and renowned works by artists such as Salvador Dali. Although Madrid is a huge city to explore, it is the city's features that make it worth it. It is full of life and culture that is hard to explain in a few words. With the best art museums on the continent, the city also offers many countless things that make Madrid special, for example, the café con Leche. drinks at a rooftop bar or walking along the Retiro or Casa de Campo to catch some sun. Whatever is your reason to visit the city, the historic sights with the Spanish Empire background, you will have the best holidays in Madrid.
Are you visiting the city for the first time? Don't you have any idea about the local transports or where to stay your journey from? Now, there is no need to worry. Just book Noble Transfer's Transfer Madrid Airport To City and get rid of all your traveling worries. We are one of the topmost trusted and reliable private airport transfer services offering safe Taxi Madrid Airport To City, airport shuttle and business Mercedes limousines with professional chauffeurs in Switzerland, Spain, Germany, France and across Europe at the most affordable prices. Now, you do not have to wait at the airport or to face the inconvenience of local public transport. Just tell us your plans and get ready to be picked up and dropped off by our professional chauffeurs on-time. We would make a customized itinerary for you anytime anywhere in Madrid, Spain.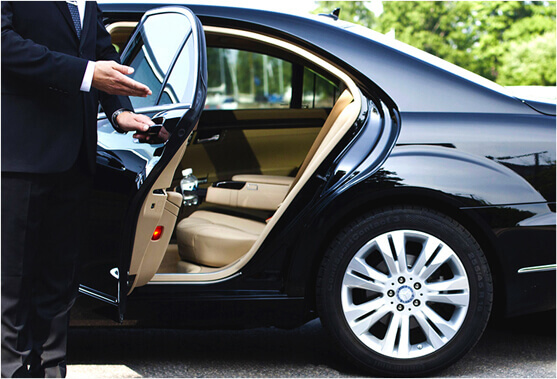 Book Madrid Airport Shuttle Service And Get 60-minutes Free Waiting Time At The Airport By Our Professional Chauffeurs
From the gorgeous streets to eye-catching monuments, from fine arts museums to stunning architecture and from food-paradise to flamenco, no place on earth will make you say just wow on the first glimpse. Along with the popular cuisine, Madrid has evolved into one of the finest culinary capitals of the entire Europe where you will find the upper level of creativity and innovation in Spain's gastronomic revolution. At Madrid's Plaza Mayor, you can taste the fine drinks at the bars, eat a baguette stuffed with deep-fried, battered squid. It is one of the best places to try the world-known local cuisine including Calamari sandwiches - a must-try snack for every traveler. Undoubtedly, Spain is a great place for food-lovers where they have the best experience of eating at the oldest restaurant with a Guinness World Record certificate. The place is called Sobrino de Botín.
Want to explore the local restaurants and cafes of the city in a luxury ambiance with a stress-free mind without worrying about being lost? If yes, then booking our professional chauffeur services Madrid is a great idea. Wherever you need to get once you have landed at the airport, be it city center, hotel, or art museum or any other place, our drivers will take you any time anywhere you want 24x7. As soon as you book our services, you will find our chauffeurs waiting for you at the terminal with your nameplate in hands. They will meet and greet you at the airport, pick you up, take care of your luggage and drive straight to your destination. On the way, they will provide you with the local details and guide you with everything you want throughout the way. All our chauffeurs are well-trained, highly-experienced and professional in their work, so, if you want to ask anything about exploring local routes, eating or staying at the best places, just go ahead. To ensure on-time arrival, you are required to provide us your flight details so that we could track it and update you in real-time. If somehow, you arrive late at the airport, no need to worry. We are not charging any extra waiting money for at least 60 minutes of waiting time at the airport and 15 minutes for another destination. All you need is to sit back, relax, and enjoy the calm and more private journey.
By booking our luxury Limousine services Madrid, you can make your trip more memorable, classy and luxurious. We are offering a wide range of latest luxury fleets you can choose from as per your convenience, style, and travel demands. It includes Mercedes-Benz E-Class, BMW 5 Series, Audi A 6, Tesla, Mercedes V Class, Mercedes-Benz S-Class, BMW 7 Series, Audi A 8 and Mercedes-Benz B-Class, VW Golf or similar, etc. Be it any corporate person or a leisure traveler, in small or large groups, we have every type of vehicle to cater to your needs. All our vehicles are spacious, hygienic, well-maintained, and equipped with the latest technology and safety features like free Wi-Fi and water bottles in every car. So, book us now and experience the next-level journey of excellence.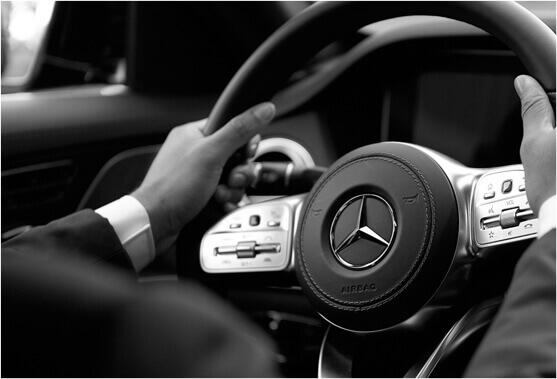 Book Door To Door 24x7 Airport Transfer Madrid To City Centre And Travel Hassle-free
Full of energy and cultural wonders, Madrid is a modern metropolis that provides the real side of Spain. Though the city does not have the traditional charm of Andalusia or the gorgeousness of Barcelona, it does have an exciting appealing ambiance from happy-ending shopping to exciting nightlife. In recent years, Spanish clothes are all over the world and for the shopaholics, Zara - is the most famous brand for shopping. Owned by Spanish fashion company Inditex, you can find the biggest Zara store in the world at 79 Paseo de la Castellana that houses womenswear, menswear, clothes for children, and accessories in the 6,000-square meter area. The city also has amazing luxury boutiques you can check out. If you are more of a night lover, the city has an extensive range of cocktail bars and nightclubs that combine the glamour with non-stop entertainment. The easiest and quickest way to reach the city is by boarding a flight to Madrid Barajas international airport. Also known as Adolfo Suárez Madrid–Barajas Airport, it is the main international airport and second largest airport in Europe in terms of size after Paris–Charles de Gaulle Airport.
But the moment you land at the airport, you are all tired and waiting for public transport to get to your destination is not your thing even with the heavy luggage. You also do not want to travel to the inconvenient and unhygienic local transports. Do not worry. Just book Transfers From Madrid Airport To Madrid City Centre and reach wherever you want in the luxury ambiance of our fleets. To book our services, you are required to go to our website via your laptop or mobile phone and fill the online form. It demands your traveling information like pick-up and drop-off location with date and time. As soon as you fill and submit it, you can have access to all our available rides for selected locations with charges. Just go through them carefully and select the appropriate one. When you make the online payment, you will get the confirmation mail regarding the confirmation of your booking from our side. As soon as you get it, you can know the arrival time of our drivers and can stay in touch with them. By booking us, you can ensure a relaxing and refreshing journey with a smiling face.
We Are Offering:
Door to door 24x7 customer support

Easy, quicker and flexible online booking

Instant confirmation mail

Safe and secure online payment

Meet and greet at the airport

On-time arrival and departure

English speaking chauffeurs with years of experience

Wide range of luxury fleets

Real-time flight tracking

All-inclusive prices

No unnecessary stops

Complimentary Waiting Time of 60 minutes at the airport, 15 min at all other destinations

Visit The Top-attractions Of Madrid Stress-free With Transfer From Barajas Airport To Madrid
The capital of Spain, Madrid is an amazing and bustling city to visit at least once during your trip to Spain. Many of the city's attractions are centrally located where you not only can visit several festivals, essential gatherings but also street performers and one of the most popular squares - Plaza Mayor known for its souvenir shops, cafes and exciting San Miguel Market. To help you out, here we are sharing some of the best and top tourist attractions to visit in Madrid. Let's have a look:
1. Plaza Mayor -
Also known as "Plaza del Arrabal", Plaza Mayor is the most famous square in all Madrid located near Puerta del Sol. This elegant 17th-century plaza was built during the reign of Philip III which attracts visitors with its rectangular shape and three-story residential building surroundings. Book Madrid Airport Transfer to witness its unique, classic, and intense architecture by Juan de Villanueva. Along with its northern block of Casa de la Panadería, it is one of the most-visited places in Spain.
2. Buen Retiro Park -
Refers to the "Park of pleasant retreat", the Buen Retiro Park is one of the most famous places to visit in Spain for those travelers who want to spend some time close to nature. This is the royal garden which is spread over an area of about 350 acres as well as boast adventurous activities like boating, art exhibitions, and more. You can find many interesting fountains here including Los Galápagos, El Ángel Caído, and La Alcachofa. The main entrance of the Plaza leads you to the center of the park, Jardín de Don Cecilio and The Palacio de Cristal (Crystal Palace).
3. Prado Museum (Museo Nacional Del Prado) -
The world-renowned museum in Spain, the Prado Museum exhibits the collection of more than 5000 paintings including Spanish paintings from the 12th century to 19th century. It is a great place for art and history enthusiasts where they can get the world's famous masterpieces of world-known artists such as Rembrandt, Goya, Van Dyck, Velázquez, Titian, El Greco, and Bosch, etc. you can book Madrid Airport To Madrid City Centre to witness 2300 pieces of the collection in more than 100 rooms on various floors.
4. Royal Palace of Madrid -
Located in the western Madrid, Royal Palace of Madrid is the official residence of the Spanish royal family which is considered the famous Baroque palace in Spain. One of the most important sights of Spain, the Royal Palace of Madrid is one of Europe's largest palaces that is spread over more than 1 million square feet of floor space. Destroyed during 1734 in a fire, you can still feel the walls of the old city around the palace site.
5. Catedral de Sta Maria la Real de la Almudena -
Holding the title of one of the most important places to visit in Spain among tourists, Catedral de Sta Maria la Real de la Almudena is the seat of the Roman Catholic Archdiocese of Madrid that was constructed in 1993 by Pope John Paul II. It took almost 110 years to complete which makes it the most important landmarks to visit in Spain. Book Shuttle Madrid Airport to visit the site of the first mosque of Madrid on which the cathedral is situated.
6. Puerta del Sol -
Refers to the Gate of the sun in Spanish, Puerta del Sol is one of the busiest and most-visited landmarks in Spain. It connects the busiest streets of Calle Alcalá, Calle Arenal, Calle Preciados, and Calle Mayor. Puerta del sol is one of the historical squares in Madrid that features many popular attractions along with a large clock. It used to be the eastern gate of the city and now it is one of the most popular places to visit in Spain. If you want to visit this place, you must do it during the Christmas or New Year.
7. Temple of Debod -
Considered as one of the most unusual places to visit in Madrid, Temple of Debod is an ancient Egyptian temple situated close to the Plaza de España. The temple was constructed as a token of thanks to the archaeologist's team of Spain by the former Egyptian president Gamal Abdel Nasser. Book Taxi From Madrid Airport To City Centre and visit various shrines, a spacious hall and a terrace on the upper-level hassle-free. The temple was built for King Adikhalamani in the 2nd century BC which has beautiful gardens in its surroundings including pools and a fountain.
Look At The Top-luxury Hotels To Stay In Madrid And Book Madrid Airport Transfer For Hassle-free Arrival And Departure
Apart from stunning historical monuments, gardens, and places to hang-out, the city also offers a suitable and comfortable neighborhood to stay for the travelers. Here, you can find a wide range of accommodation options as well as visit around the nearby places while staying. To help you out here, we have shared a list for you of the top luxury hotels. Let's take a look:
1. Pestana Plaza Mayor Madrid -
The luxury hotel is situated 600 m from the Puerta de Sol and offers a seasonal outdoor swimming pool and a fitness center. It is one of the first choices among travelers due to easier proximity to Mercado San Miguel (less than 1 km) and Puerta de Toledo (a 13-minute walk) from the hotel. Book Transfer From Madrid Airport To Hotel to enjoy living in luxurious rooms equipped with an elegant bathroom and good amenities. You will be served a buffet breakfast at the hotel's restaurant as well as you can visit the nearby attractions including Plaza Mayor, Thyssen-Bornemisza Museum, and Adolfo Suarez Madrid-Barajas Airport.
2. Hotel Riu Plaza España -
Situated 700 m from the Royal Palace of Madrid, the hotel is set in Madrid and offers luxurious accommodation with a top restaurant, a bar, and a terrace. It is the 8th tallest building in Madrid and one of the most iconic buildings in Spain. The thing which makes it an appealing choice among travelers is its closest approach to the airport. You will be living in one of the 584 modern decorated rooms, with free Wi-Fi and 17 stylish conference rooms. The nearby attractions are Gran Via, Temple of Debod, and Mercado San Miguel.
3. Soho Boutique Congreso -
Located in the Madrid city in the neighborhood of the Courts, the hotel offers many of the nearby attractions to explore which make it different from other hotels. The travelers can visit the Thyssen-Bornemisza Museum, Mercado San Miguel, and The Prado Museum. The rooms are elegant and well-decorated with good amenities while you will be served a buffet breakfast at Soho Boutique Congreso. Book Madrid Airport Taxi to Soho Boutique Congreso and enjoy a hassle-free journey.
4. VP Plaza España Design -
The hotel is located in the Gran via, in the Madrid city center, and offers 5-star accommodation with a wellness center and a seasonal pool. It has 214 spacious rooms, various restaurant areas, and more than 1400 m square meeting halls. The rooms have exclusive decor and equipped with good amenities while at Botania, you can enjoy a good meal. The nearby attractions include Metro station Plaza de España, Royal Palace or the Almudena Cathedral, Train Station Príncipe Pío and Adolfo Suárez Madrid-Barajas Airport.
5. Hyatt Centric Gran Via Madrid -
The luxury hotel is located in the heart of Madrid to offer a bar, a gym, and on-site dining. It is 150 m away from the GRan via the metro station. You can book Madrid Airport Shuttle to Hyatt Centric Gran Via Madrid for hassle-free transfer. All the rooms are spacious and providing city views while at the hotel's restaurant, you will be served a buffet breakfast.
Noble Transfer Is The Top Leading Taxi Service Madrid Airport
No matter what your reason is to visit the beautiful and historic sights that Madrid has to offer, we have got the perfect and suitable Taxi Madrid City Centre To Airport for you. With our all-inclusive prices, our ultimate agenda is to make your traveling easier, exciting, and full of excitement. There are not any hidden or extra charges imposed to avail of our services. Just log-in to your account, simply enter the asked details and you will have a confirmed booking in minutes to make your trip an unforgettable experience.
Whether you are visiting the city for special reasons like a family holiday, wedding anniversary, or honeymoon, we have a large range of our transfer options where you can enjoy strolling around in our luxury cars with complimentary services. You can book our services even before landing at the airport and get the benefit of picking and dropping off our well-trained chauffeurs wherever and whenever you want at the most affordable rates. With our online payment system, you do not need to involve in the currency exchange procedure or carry the cash. Noble Transfer is here to make your ride comfortable, organized, and headache-free for you.