Pre-book Your Private Transfer: Call
Have any Questions?
Zürich, the financial powerhouse of Switzerland isn't just the old factories converted into cultural centres and creative new living spaces. It has as much historic charm as it has contemporary. Switzerland's ancient centre, with its meandering lanes and tall church steeples is still intact in all its prehistoric glory. The affluent city of Zürich gets wealthy businessmen, tourists and travelers flowing in from all over the world everyday for work and pleasure alike. But for a city that exudes luxury from its each and every corner, getting around here and sightseeing in a bus doesn't sound like the chicest idea does it?
To explore the beautiful blend of contemporary and historic charm of this city in its true luxurious sense, you need to have a luxurious ride right? For this sole reason (and many more to come), you have to choose Noble Transfers. We are a transportation service providing lavish cars for all those who visit Zürich and for whom luxury is a necessity. We provide the best airport transfers in Zürich and surrounding cities in Switzerland.
Explore the financial capital of switzerland - one of the best cities to live in the World
Being one of the richest cities of the world, Zürich has on offer some of the most exquisite things that many can only dream of. From private and customized tours of the hidden gems of the city to lavish restaurants and parks, Zürich keeps you on your toes and still helps you feel luxuriously relaxed with its magnificent hotels and spas. From guided boutique chocolate store tours to the special seasonal magic Christmas tour, the city ceases to spellbound the tourists at every step. Planning your next vacation or work trip but do not have the time to map out everything? No need to worry. With airport transfer services to and from Zürich's Kloten airport, you can get your whole trip planned out without any hassle.
Hire a limousine or a luxurious sedan as per your need and start packing. Your car comes with a professional chauffeur who will take you around the city and out without wasting your single minute. Traveling should be fun and stress free whether you are traveling by choice or not. Just book your ride and get ready to see this ever so charming city. Trust us- from the narrow streets of the Old Town to the delicious desserts at the Confiserie Sprüngli: A Confectioner's Café on the Paradeplatz, your eyes will have a feast. However, to focus on these and many such nicer things that Zürich has to offer, don't forget to book your Zurich airport transfer beforehand and travel in style. From the airport, to the airport or to the city center, you can get a car with a chauffeur anywhere. It goes without saying that impeccable and unmatchable services are guaranteed.
Get airport transfers at reasonable prices and visit the surrounding areas in Zürich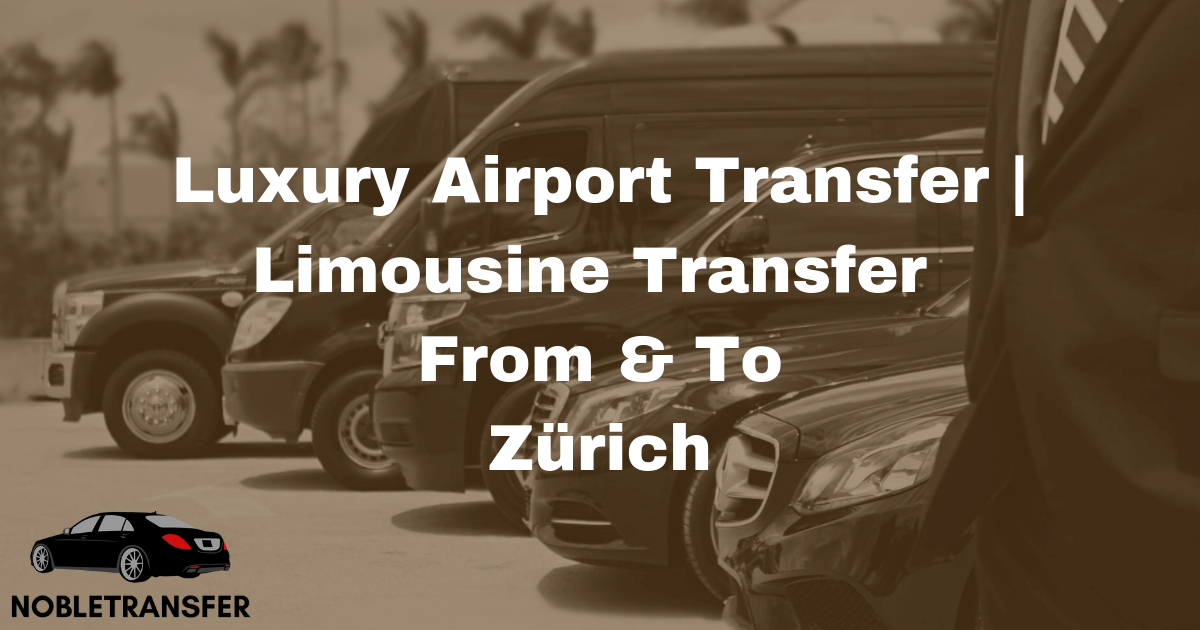 Zürich is the perfect place to visit and makes for an even greater base to plan one day trips from. This is due to the city's location in north-central Switzerland and the excellent roads. And road trips are loved by one and all especially if you have a luxury car (transportations services, remember). With an early rise and shine, you can easily get a taste of Switzerland's magnificent Alpine scenery, hop on a train to the mountaintops, go on a lake cruise, admire the waterfalls, or bask in the glory of the perfect little postcard villages.
Visiting the exuberantly pretty city of Lucerne can be made a priority as well. Get on a paddlewheel steamboat and cruise on the stunning lake Lucerne with your loved one. It can be a perfect spot for a proposal too. However, if this doesn't sound like you, the Swiss capital of Bern might interest you. Hop on a funicular from the Aare in Waben and take a trip to the beautiful slopes. Summers are meant for hiking and the miniature railway rides for the little ones bring utmost joy. There is even a toboggan run available if there is sufficient snow available in the winter. Delve into the history and architecture of Bern or enjoy the slopes, the choice is yours and the choices are too many. Book your airport transfer, get to Zürich, attend your meetings and start exploring the surroundings.
Recommended Read: Complete Zurich Travel Guide
Book luxurious rentals with the best airport transfer services in Zürich
Zurich is a city laden with the best touristic spots and attractions. It is worth mentioning that the major touristic spots are all located close to the Limmat River, between the Bahnhof (main train station) and Bürkliplatz, where the river flows from the lake. Also, these two points are connected on the west side by Zürich's highly fashionable shopping street- Bahnhofstrasse. Overlooking the street from the other side of the river is the Old Town with its of narrow streets and squares. They are a treat to sore eyes especially for the ones who admire Medieval and Renaissance buildings.
You don't need luxury of your own to appreciate buildings and get to luxurious places. Although it doesn't hurt to arrive in a limousine to a restaurant with your beloved for a special date does it? So, why not travel in style? Book luxurious airport transfers from the Kloten airport to the city of Zürich and to the surrounding areas as well. Visit the magnificent city of Zürich and enjoy the ride. Visit the known and the unknown but don't hurt your back while doing it. Stay classy, opulent and always arrive and leave in style.
Street address
City
State
Zip code
Country
Street address
City
State
Zip code
Country
Street address
City
State
Zip code
Country